Viva Inspiration from Inspire
As a partner conference Microsoft Inspire, does not generally have a lot of product & feature announcements.  However, there are a few interesting points for those of us interested in Microsoft 365 and Viva.
As Satya Nadella said in the Keynote, every organisation needs a digital fabric that enables hybrid work, connecting people across locations and working patterns, covering all 4 quadrants of the diagram below.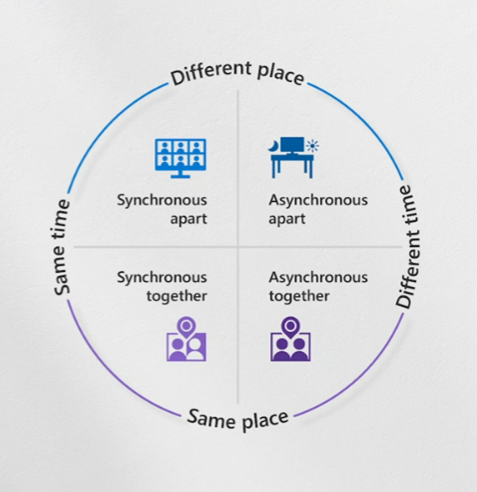 Microsoft Teams innovations such as annotations on shared content in teams meetings, Excel Live as well as camera improvements for meeting rooms which help to make the experience of the virtual and in person attendees more equitable.
A summary of the news from Microsoft Inspire is available in the news blog  From enabling hybrid work to creating collaborative experiences—here's what's new in Microsoft 365 | Microsoft 365 Blog
The latest Viva news
Of note for Microsoft Viva are three main points. 
Viva Goals will be generally available from 1st August.  Viva Goals is included in the Microsoft 365 Suite license, though stand alone licensing will also be available.
Viva Engage is a new Viva tool.  Late in August the Viva Engage app will replace the Yammer Communities app in Microsoft Teams and offers an updated and enhanced Yammer experience from the context of Microsoft Teams.  Enhanced features include improved people search and Storyline, which provides a personal story sharing location for employees.  Making Yammer, even more like an internal social network. Viva Engage will be available with all Microsoft 365 licences and will not require separate licensing.
More details on Viva Engage is available in the following Microsoft blog:
Yammer Tech Community Blog on Viva Engage
 Finally, Viva Learning now has a Content Sync API which may not mean much to non-developers but what it allows is the ability to bring any Learning Management System (LMS) into Viva Learning, opening up tools like Moodle and Kallidus or whatever you are using to be integrated into Viva Learning. You could even bring in your bespoke apps created at your organisation.
Use the employee learning API to integrate with Viva Learning - Microsoft Graph beta | Microsoft Docs
Looking forward the following is promised, so lots to look forward to.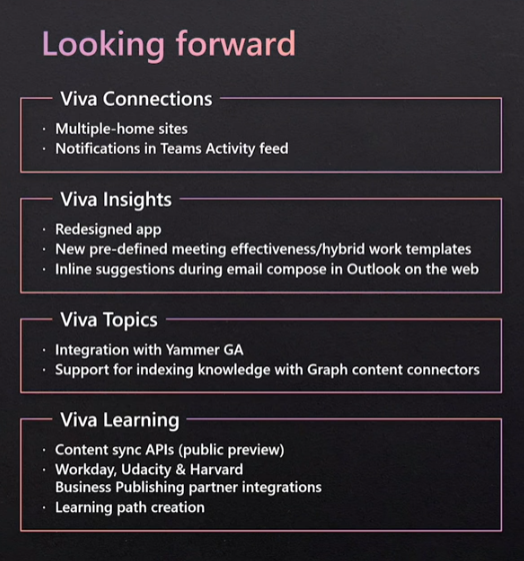 And finally, added to the Roadmap for Microsoft Viva today were a few other gems and confirmation of the announcements:
·       Meeting category insights coming to the Viva Insights app in Teams, due for release in August and part of the personal Viva Insights functionality Roadmap Entry
·      Yammer Storyline in Viva Engage due September Roadmap Entry
·      A redesigned Viva Insights App in Teams and Viva Insights on the M365 App launcher due August 2022 Roadmap Entry
·      Viva Engage due August Roadmap Entry
If that was the exciting updates for Inspire, just imagine what Ignite in the Autumn will bring!